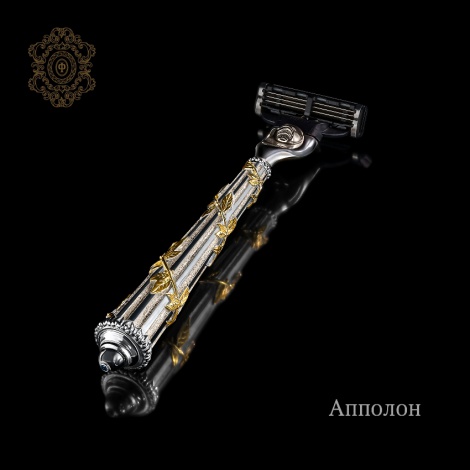 The classical safety razor with a replaceable edge.
Weight 83 g; Sapphires Кр-57, D 2,5 mm, 3/1 0,08 Ct, Casting, gilding, rhodium coating
available
There is no fixed price. Only individual manufacturing.
| | |
| --- | --- |
| Size, cm | Weight 83 g; Sapphires Кр-57, D 2,5 mm, 3/1 0,08 Ct |
| Material | Silver 925 |
| Production technology | Casting, gilding, rhodium coating |
| Package | Original Frage (Makassar (with the Frage logo)) |
| Additional commentaries | The logo or the monogram of the Customer can be added on the button of the mechanism. |
The Apollo safety razor is made of sterling silver (925◦). A straight handle, which is a little narrowed to the basis, is framed with gilded petals. A rhodium coating adds additional protective properties, gloss and makes the operational term longer. If desired, add the company's logo or the monogram of the person to whom you want to present the safety razor Apollo and you will have the elite personal souvenir for your friend, husband or father. Present this expensive gift in a stylish Frage package - a casket. The caskets are made of Makassar, valuable Bombay ebony that has almost indiscernible annual rings. A man's safety razor is one of the most traditional and daily-used objects .Give your friend this expensive gift on his special day. Your present will always be timely and it will take a worthy place in the owner's house. And while shaving he will feel like a real Apollo.
Frage as a gift
Giving and receiving a gift turn it into the process filled with emotions. Symbolically a part of these emotions is meant "to be packed" to keep it "warm" while the gift giver is thinking of the person who the gift is intended to.
The happy owner of a gift begins to feel its "magic", touching the package and opening it . This very idea made us think about the importance of a gift decor.
"Sometimes the desires you dream of begin to pour in a life casket just like surprises."
Our caskets store gifts and the memory of them. The caskets are made of Makassar, valuable Bombay ebony. They are covered with transparent and black piano varnish. All the caskets are decorated with a gold engraving with the Frage logo. While choosing the material we were guided by its durability and service life. Bombay ebony is surprisingly beautiful, for this reason it is used in jewellery art. It is symbolic that annual rings of Bombay ebony are almost indiscernible as if the tree smoothly transfers its life story like human traditions are smoothly passed on from generation to generation.
We are
---
Manufactory «Frage». Manufacture of unique handmade jewelry
Contacts
Moscow, Leninsky Prospect, 137, building 1
Phone
E-mail:
Write us
---